Entering your Nozzle Workspace for the first time? Let's get you set up.
Welcome to your Nozzle Workspace!
First, let's take a quick look around.
Every time you log in to Nozzle, you'll be taken to the home screen. Here you'll be able to see a ranking summary for your project (or projects) after you've configured your keywords and brands.
Ranking data is shown on dashboards.
Click on the View Dashboards button or your project name to go to the Project Overview page, or click on the Keyword Groups, Top Brands, or Keywords links across the top of your project summary to go straight to those specific dashboards.
You can return to this home screen by clicking the Projects tab in the top navigation bar.

Click the Settings Cog next to the project name or the Manage Keywords button to go to the Keyword Manager page, where you can add/remove/modify your keywords, brands, and segments.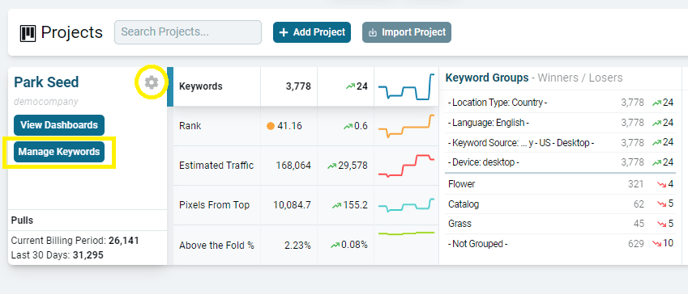 On the Keyword Manager page, you'll be able to create or modify a Keyword Source, or switch to the Brand and Segment tabs.

Adding Users
Click the Users button at the top of the screen. This will take you to the page where you can invite other members of your company to your Workspace.

Managing Your Account
The buttons and menu in the top right corner of the page give you the options to change the theme (we suggest the Auto mode), see your notifications, get help, and do more, like log out or view your Workspace settings, billing info, and usage statistics.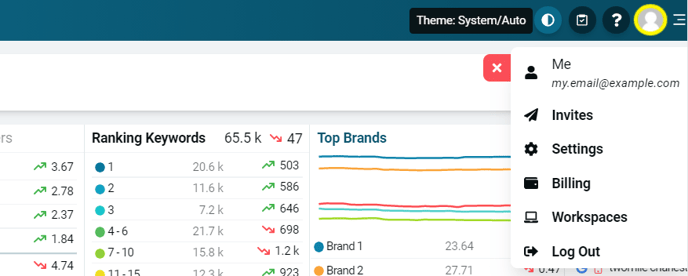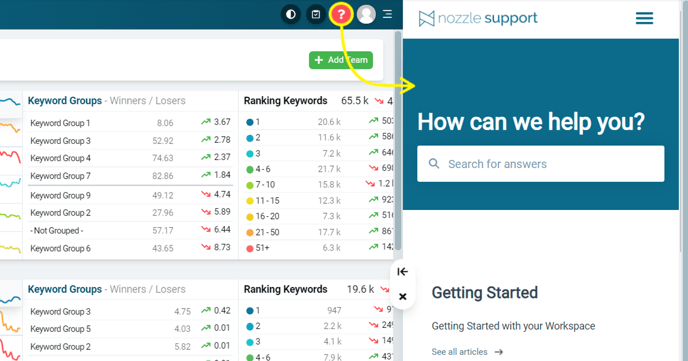 💬 If you ever have questions or concerns, feel free to use the chat bubble in the bottom right corner at any time to chat with a member of the Nozzle project.
Now it's time to input your keywords.
For instructions on how to begin tracking your keywords in Nozzle, visit this article, where you'll find concise instructions and a tutorial video.
Basically, just click the Add Keywords & Schedules button on your home screen, then follow the steps on your keyword source page:
Name your keyword source
Paste in your phrases using the Add Phrases button
Select your desired devices
Select your desired locales
Set a tracking schedule.
Add keyword groups as desired.
Note: The default
Basic Keywords mode
is sufficient for most keyword sources;
click here
for information on the others.
🚨 Every time you make changes, save your keywords before navigating to a different tab or page.
Do I need multiple projects?
Projects are containers for separating different projects or entities. You will want multiple projects if you are an SEO agency with multiple clients whose keywords are completely separate. To learn how to create projects, see this article.
Click here to learn more about how you should organize your keywords using projects, keyword sources, and keyword groups.
📌 If you have a non-agency company, a single project will probably work great for you since your company's keywords will all be loosely related.
Now you're ready to start tracking brands.
You can track various aspects of your own brand, such as your social media presence, your website, and your YouTube channel. It's also smart to track your competitors' brands. Monitoring by brand, rather than just domain, makes it so much easier to keep track of your online presence and make the most of your SEO efforts.
Track your competitors' brands.
What are segments?
Segments are built-in and custom filters that allow you to switch between or compare different types or "segments" of SERP data with ease.
We've written several blog posts that will provide extra guidance in using segments as you begin tracking various SERP features. Here are a few:
You're off to a great start!
Nozzle is one of the best rank trackers in terms of data, flexibility, and personality. Our goal is your SEO success, so don't hesitate to reach out to us if you're missing something or need a custom solution. We're constantly improving our tool.
Here are a few more Nozzle features and options that you should get to know early on:
💡 The best way to learn how to use Nozzle is by diving in yourself, so play around with the tool early on when there's less risk of messing things up. You'll thank yourself later!
And, to balance all the hard work you'll be doing, here's a little lighthearted SEO fun. 😁
Good luck!