You can create a brand for all your competitors to track their performance in the search engines.
You can closely monitor your competitors by creating a separate brand for each of them.
First go to the Keyword Manager by clicking on the Projects tab in the top navigation bar, then click on the Settings Cog or the Manage Keywords button near your Project's name.
Next, select the Brands tab and click the green +Add Brand button.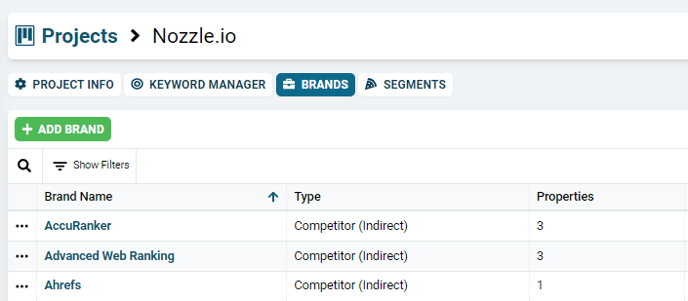 Then, type in your competitor's domain name and click the green Search button.
This will generate a list of potential brand properties related to that domain. This will often include things like their domain, their LinkedIn, Twitter, and more.
Select which ones you would like to track, then click the green +Add Properties button.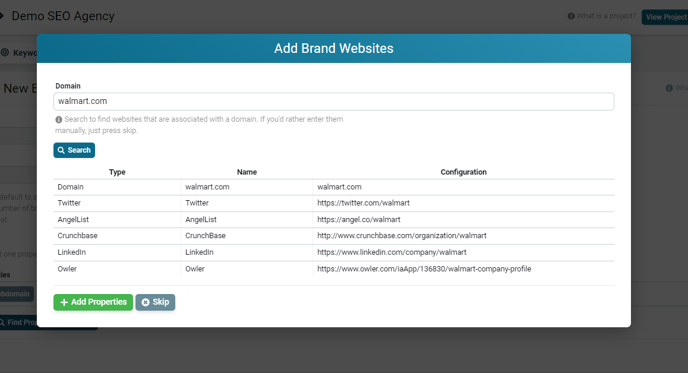 This will take you to the Brands page where you can create the Brand Name and change the Brand Type to a Direct or Indirect Competitor.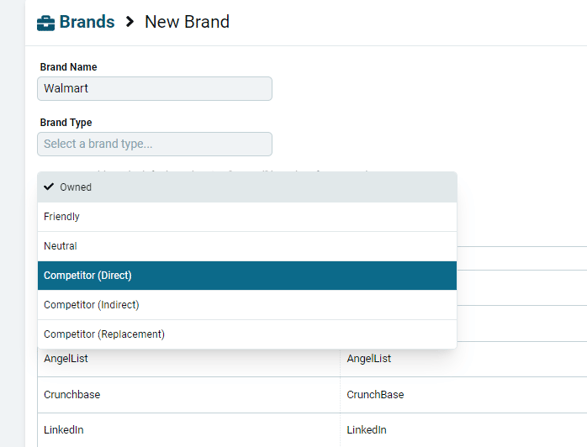 It's important to set this brand as a Competitor so you can quickly select a specific competitor or all your competition in any of your Nozzle dashboards. This will make it easier to keep track of their online performance.
You can manually add more properties using the Add Common Properties buttons. You can even add specific URLs or a variety of other properties by using the Add Property button.

⚠️ Don't forget to click the green Save Brand button when you're done!
Now, you can view the ranking data for individual competitors' brands by selecting Brand in the Rollup dropdown on any dashboard. Or you can view them all by selecting Brand Type and then specifying the Competitor (direct or indirect) type.