To add competitors to track, create a brand for each competitor.
First go to the Keyword Manager. To get there just click on the Projects tab in the top navigation bar, then click on the Settings Cog or the Manage Keywords button near your project's name.
Next, select the Brands tab and click the green Add Brand button.
Then, type in your competitor's domain name and click the green Search button. It will show some pre-loaded options: your competitor's domain, their LinkedIn, their Twitter, and more. Select which ones you would like to track, then click the green Add Conditions button.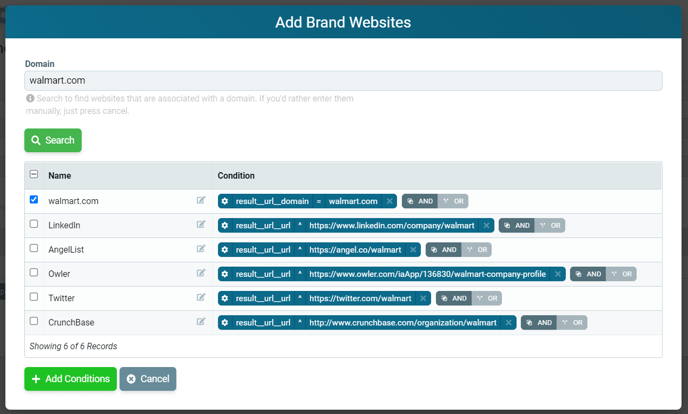 Type in the brand name, brand type, and reputation impact. You can add more properties using the Quick Add and Add Custom Property buttons.
⚠️ Don't forget to click the green Create Brand button!
If you wish to track your competitor's YouTube channel, this is most easily done by creating a separate brand, as in this article.
You can view the ranking data for your competitors' brands compared to yours by selecting Brand in the Rollup dropdown on any dashboard.