Want to learn about how to use dashboards and interpret charts and metrics in Nozzle? You're in the right place!
Nozzle has
several well-equipped dashboards
. Dashboards are where you can view your ranking data. Use different dashboards depending on what angle of SERP data you want to see; for example, whether you want to analyze data for a single brand or look at a more complete picture of the SERP landscape.
Here you'll learn the anatomy of Nozzle dashboards, from the general to the specific.
Basic Dashboard Functions
Navigation
To navigate to your desired dashboard from any screen, simply visit the Projects tab in the top navigation bar, then click on your project name, Keyword Groups, Top Brands, or Keywords in your project summary. If you are already viewing a dashboard, use the left navigation panel to visit another dashboard.


Switching Projects
To switch to a different project, click on the project name (with an arrow next to it) at the top of the page. You'll see a dropdown where you can select the project whose data you would like to view in this dashboard.

Date Range
In the top right-hand corner, you'll see a blue button showing the current date range you're viewing data for. To change the date range, click the button, then enter or choose a date range in the pop-up and select the green Apply button.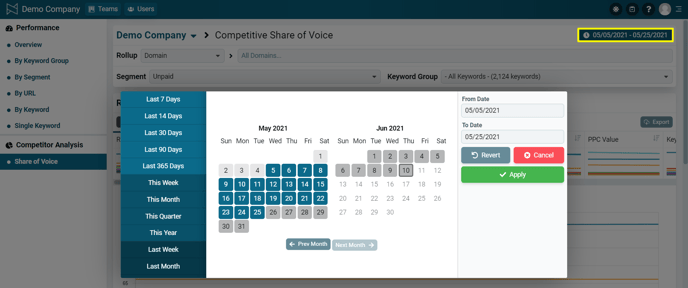 Rollup Dropdown
Use the Rollup dropdown to choose whether you want to view SERP data for brands, brand types, brand properties, domains, subdomains, or URLs. Performance dashboards then require you to select a specific brand, domain, etc., to see data for.

Segment Dropdown
Use the Segment dropdown to filter your data in any way you can imagine using built-in and custom segments. To create a custom segment, see this article.

If you don't know what a certain segment does, visit the Projects tab, click on the Settings Cog next to the appropriate project, then select the Segments tab. In the table, you'll be able to read each segment's description. For further clarification of a segment's function, ask us using the chat bubble in the bottom right-hand corner.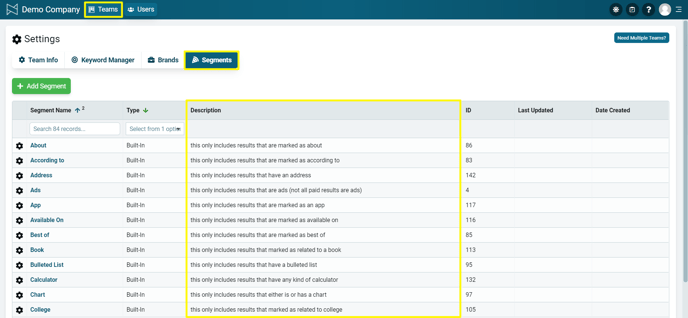 Keyword Group Dropdown
Use the Keyword Group dropdown to filter by keyword group or keyword source.

Sorting, Metrics, and Change vs. Value
Below the Segment and Keyword Group dropdowns, you'll find the Metric by Rollup section. You can sort by any metric using the Sort By dropdown and select descending or ascending order. Sorting by a metric will automatically switch to that metric's tab. You can also click the metric heading any column in the data table (at the bottom of the dashboard) to sort by that metric and toggle between ascending and descending order.

To view data for one metric while sorting by another, just sort first, then use the Metric dropdown to select the metric you want to view. Using the Metric dropdown is equivalent to clicking on a metric's tab.

Another feature of this section is the ability to toggle between metric value and metric change. As value is the default, use the Value or Show Changes button to view changes in your selected metric. If you are using a date range that extends to before you entered your keywords into Nozzle, keep in mind that null or nonexistent values show up visually as 0 in the charts.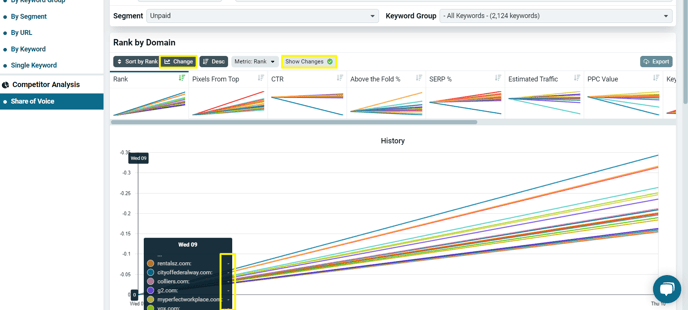 Exporting your Data
Click the Gear icon in the top right-hand corner of the table and the Export Query button will appear. As soon as your export is complete, you will get a notification above in the header. Click the green circle, then click on the notification in the Jobs pop-out to download your CSV file..

Charts and Tables
Each dashboard shows different charts and tables depending on its purpose, but you can count on seeing a history chart and a data table in all of them. In the metric tabs for estimated traffic, PPC value, keywords, unique URLs, and results, you'll be shown a bar chart organized by rank group in addition.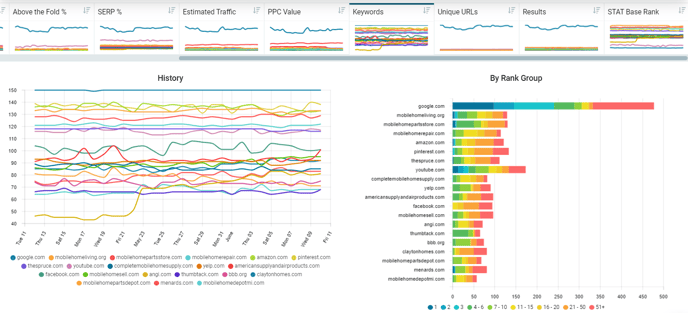 Below the charts, at the bottom of your dashboard, you'll find a data table. Use the controls underneath it to paginate through the results or show more results (up to 200) per page. These controls affect the charts above as well.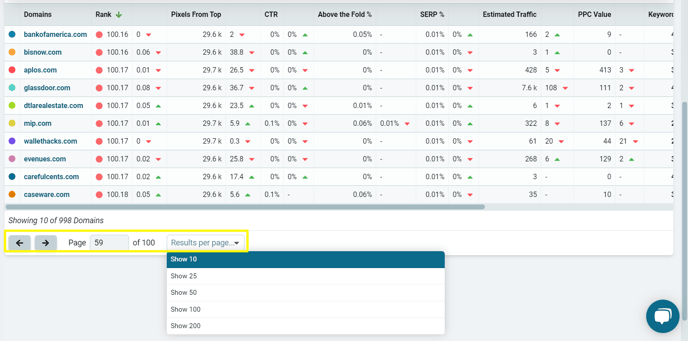 Clicking on the brands, domains, URLs, keywords, etc. in your data tables and charts will allow you to further analyze them, usually by taking you to a performance dashboard.
Other charts on various dashboards include data for keyword groups, segments, and URLs, while on the Single Keyword Performance dashboard you can analyze a table of SERP results as well as SERP HTML equipped with Nozzle Vision. See specific dashboard functions below for further detail.
To manage the data in a table or chart, try clicking the Settings Cog next to its name.
Specific Dashboard Functions
Along with the basic functions outlined above, Nozzle dashboards contain additional options, depending on their purpose. Click on any of the following links to learn about the purpose and functions of a specific dashboard.
Performance
Competitor Analysis
Metrics
With all the added features that now appear on the SERPs, rank alone is no longer a sufficient metric for understanding the SERP. We display data for a ton of metrics to give you the best SERP tracking experience possible.
These metrics include:
Rank
Pixels from Top
Clickthrough Rate
Above the Fold Percent
SERP Percent
Estimated Traffic
PPC Value
Keywords
Unique URLs
Results
Search Volume
STAT Base Rank
And more
Learn more about our unique metrics—why we use them, how we calculate them, and more—on our metrics page.
👍 Now that you know the basics of Nozzle dashboards, it's time to start eating up that data! Good luck!