The Performance - Single Keyword dashboard is for analyzing a single keyword, its history, and its SERP results.
All you have to do is select your desired brand or domain using the Rollup dropdowns, then select your desired keyword in the Keyword dropdown. You can filter by date range, if you want.

Scrolling down, you'll find a history chart with metric tabs for the keyword you selected.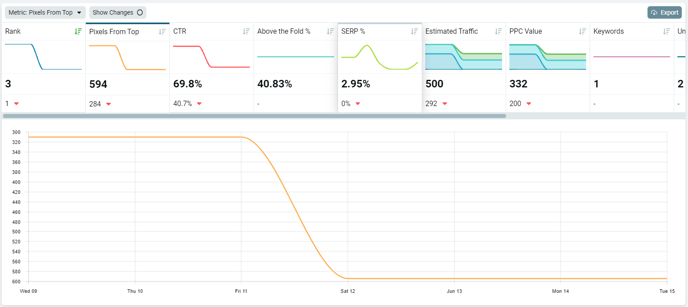 Below, you'll see the SERP Results table and SERP HTML. The SERP Results table lists all the links and People Also Ask questions found in the SERP for your selected keyword at your selected date. The SERP HTML section displays the SERP for your keyword as it appeared on Google at your selected date. Both sections are equipped with options for deeper analysis and comparison.
You can use the Compare History buttons and the date dropdowns to compare SERP results and HTML from multiple dates. Manage the metrics shown in the SERP Results table and SERP HTML using the Columns dropdowns. Use the search bar to find a specific result in the SERP Results table.
Additionally, the SERP HTML section is outfitted with Nozzle Vision and zoom controls to help you navigate, resize, and get the most out of the SERP. The SERP HTML options can also be very helpful in preparing progress reports for your boss or clients to show that your efforts are making a difference.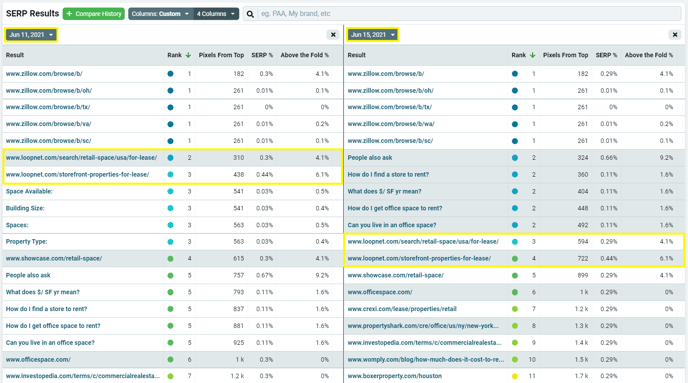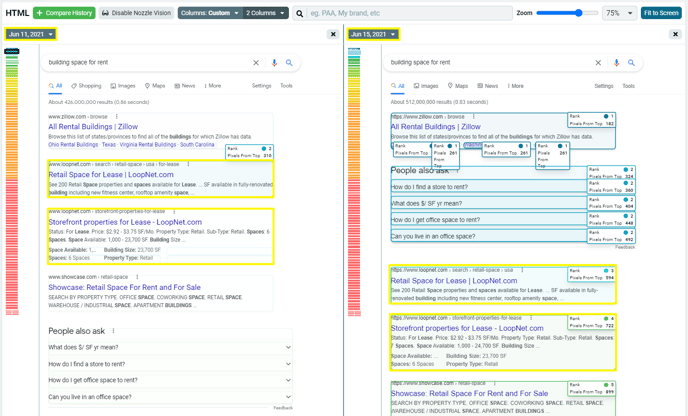 For more information about Nozzle dashboards, click here.