See exactly how individual keywords are performing in the SERPs.
The Performance - Single Keyword dashboard is for analyzing a single keyword, its history, and its SERP results.
If you click on a keyword on any of the charts on any of the other dashboards, this is where you will end up.
Alternatively, if you are starting out on this dashboard, simply select your desired brand or domain using the Rollup dropdowns, then choose the specific keyword in the Keyword dropdown.
Be sure the date range is set to the period you want to examine.

Scrolling down, you'll find a history chart with metric tabs for the keyword you selected.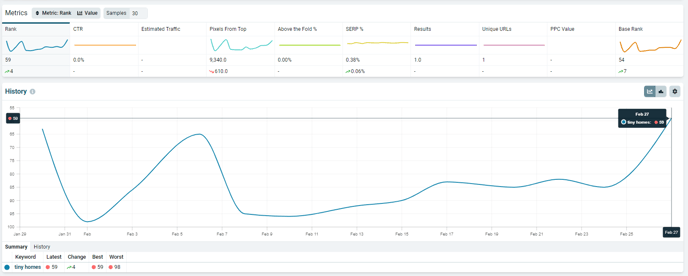 Below, you'll see the SERP Results table which shows the Result Type, URL, Displayed Title, Rank, and several other metrics for the SERP.
This is a great way to get a big-picture view of the SERP.
This is showing, by default, one entry per rank.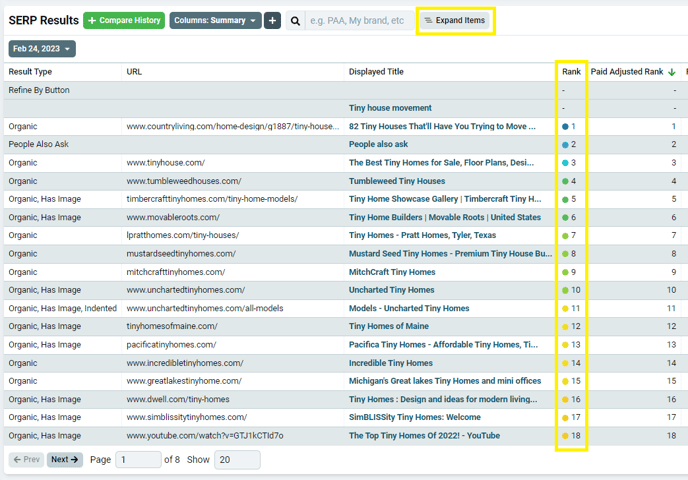 However, if you click the Expand Items button at the top of the chart, you can see how certain result types, like People Also Ask boxes and site links are actually impacting the top of the SERP.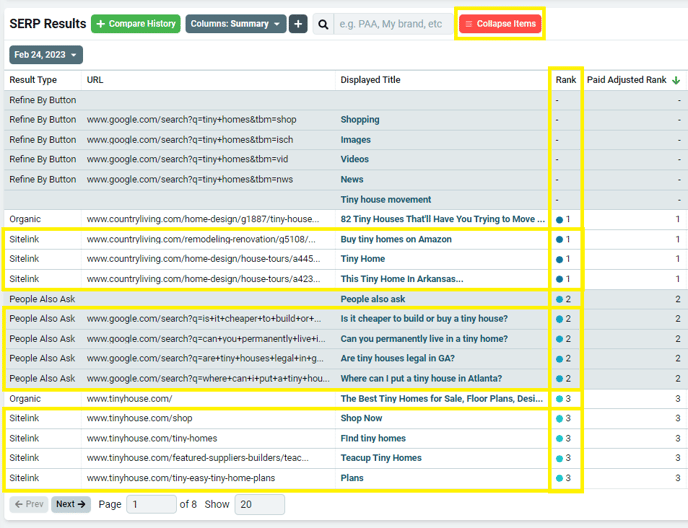 This is all listed for your selected keyword at your selected date, but you can use the Compare History buttons and the date dropdowns to compare SERP results and HTML from multiple days within the selected range.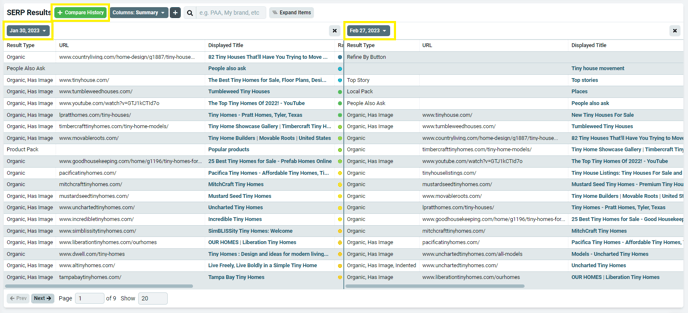 Finally, the HTML chart displays the SERP for your keyword as it appeared on Google at your selected date (or dates - you can use the Compare History button here, too). Both sections are equipped with options for deeper analysis and comparison.
This where you can look at your results through our Nozzle Vision – a visual representation of everything on the SERP.
This is not a screenshot. We capture the HTML for the entire SERP and keep it available for you to analyze any time in the future.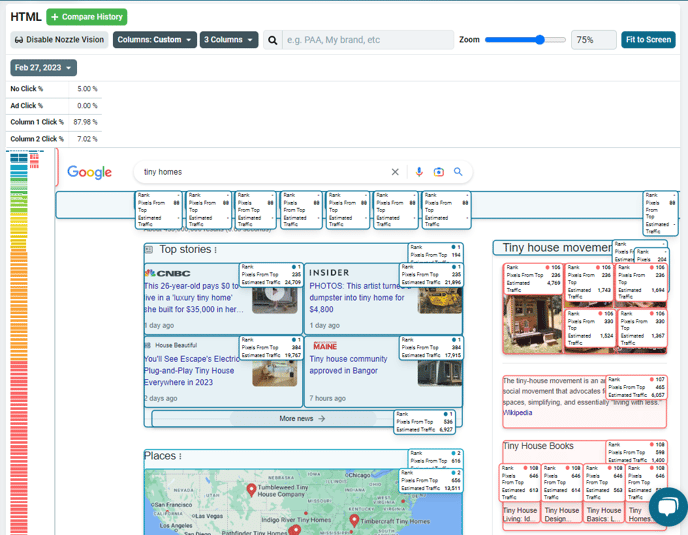 You can choose the metrics you want to examine in the SERP Results table and Nozzle-Vision-enhanced HTML with the Columns dropdowns.
The Columns dropdown allows you to choose some preset groupings of metrics, like Pixels, or Ranks, so you can quickly dive into a specific subset.
However, the dropdown that says "3 Columns" is the one to use if you want to chose each metric yourself. You can choose a wide variety of metrics, but be aware that the more you include, the more crowded Nozzle Vision will become.
The quickest way to find the specific item you want to examine is to use the search bar next to the columns button.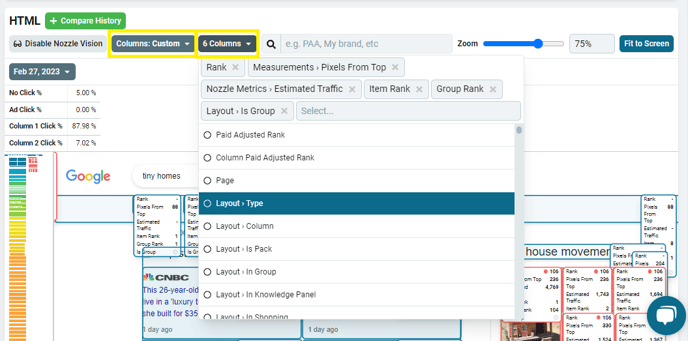 You can use the zoom controls to help you navigate, resize, and get the most out of the this data.
The options in Nozzle Vision can also be very helpful in preparing progress reports for your boss or clients to show that your efforts are making a difference.
For more information about Nozzle dashboards, click here.