Get a look at how individual keywords are performing in the SERPs.
The Performance by Keyword dashboard gives you the ability to analyze each individual keyword in your Workspace.
Use the Rollup dropdowns to select your desired brand or domain, then filter as you wish by segment, keyword group, and date range.
Use the Select keywords search bar to analyze as many particular keywords as you want. Leaving it empty will allow you to view data for all the keywords of your selected brand or domain.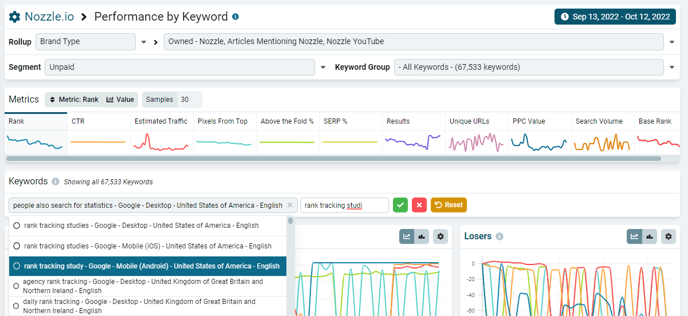 Further down, you'll find the Top, Winners, and Losers charts, which show you which keywords are your best performers, which are moving up the SERPs, and which have had the greatest losses.

Finally, the data is also presented in the Keywords chart so you can quickly sort by your preferred column.
You can click on any of these keywords to drill down even further into the data on the Single Keyword Dashboard.
For more information about Nozzle dashboards, click here.