The Performance Overview dashboard is great for an overview of any single brand or domain.
Just select your desired brand or domain using the Rollup dropdowns. You can further filter by segment, keyword group, or date range.

Below that, you'll see a history chart with tabs for our various metrics. Use this to spot site- or brand-wide trends: Have my rankings experienced an increase or decrease overall? Do any of the rank fluctuations coincide with major Google updates or other events?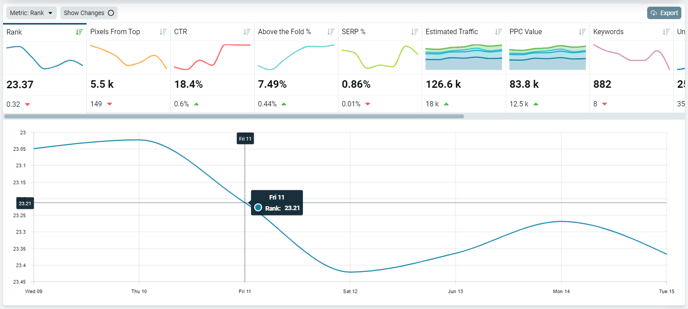 Further down, find three charts that are unique to the Performance Overview dashboard: Keyword Groups, Segments, and URLs. These are here to give you quick visual insight into how your rankings differ based on keyword group, segment, and URL.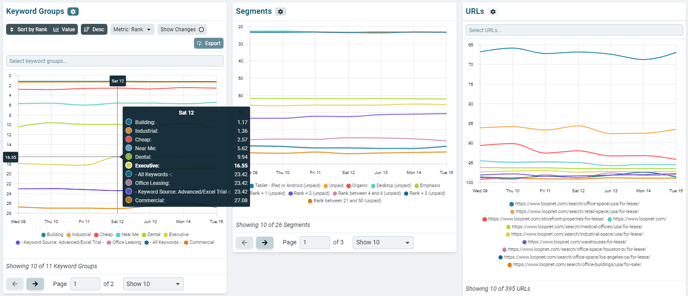 Click the Settings Cog next to the name of each chart to manage its metrics, sorting, and values, or to export the chart's data as tabled data. You may also choose to view only a handful of keyword groups, segments, or URLs in any of the charts using the Select search bar. Adjust the page number and amount of results shown using the controls at the bottom of each chart.
Clicking on one of the data labels for the Keyword Groups chart will take you to its Performance by Keyword Group dashboard. Likewise, the data labels for the Segment chart lead to the Performance by Segment dashboard and those for the URLs chart navigate to Performance by URL.
At the bottom of the Performance Overview dashboard is a Keywords table where the keywords for your brand or domain are listed, along with their search volume, top URL, and useful data.
Once again, use the Settings Cog next to the table's name to manage its keywords and sorting, and use the controls at the bottom to adjust the page number and amount of results shown.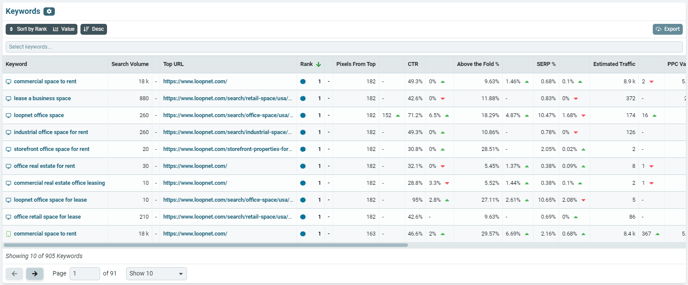 For more information about Nozzle dashboards, click here.