Quickly and easily import your full list of keywords from Google Search Console.
You don't have to manually enter all of your keywords if you already have a set of keywords in Google Search Console. Here's how you do it:
From your Projects page click the Manage Keywords button or the settings cog near the Project name.
On the Keyword Manager page, click the Import from Source button.
A dropdown menu will appear with a number of options.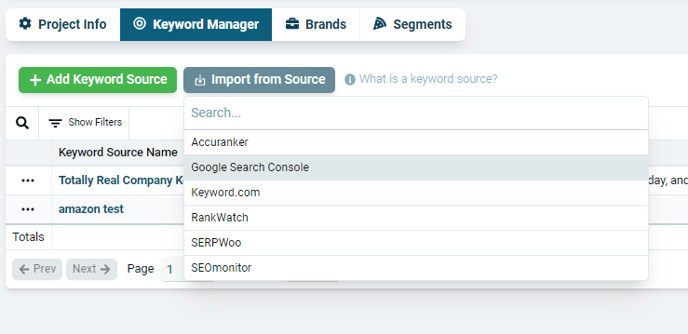 Select Google Search Console.
If this is your first time connecting GSC to Nozzle, you will be prompted to sign in with your Google Search Console account.
The Import from Search Console box will appear with all your keywords listed.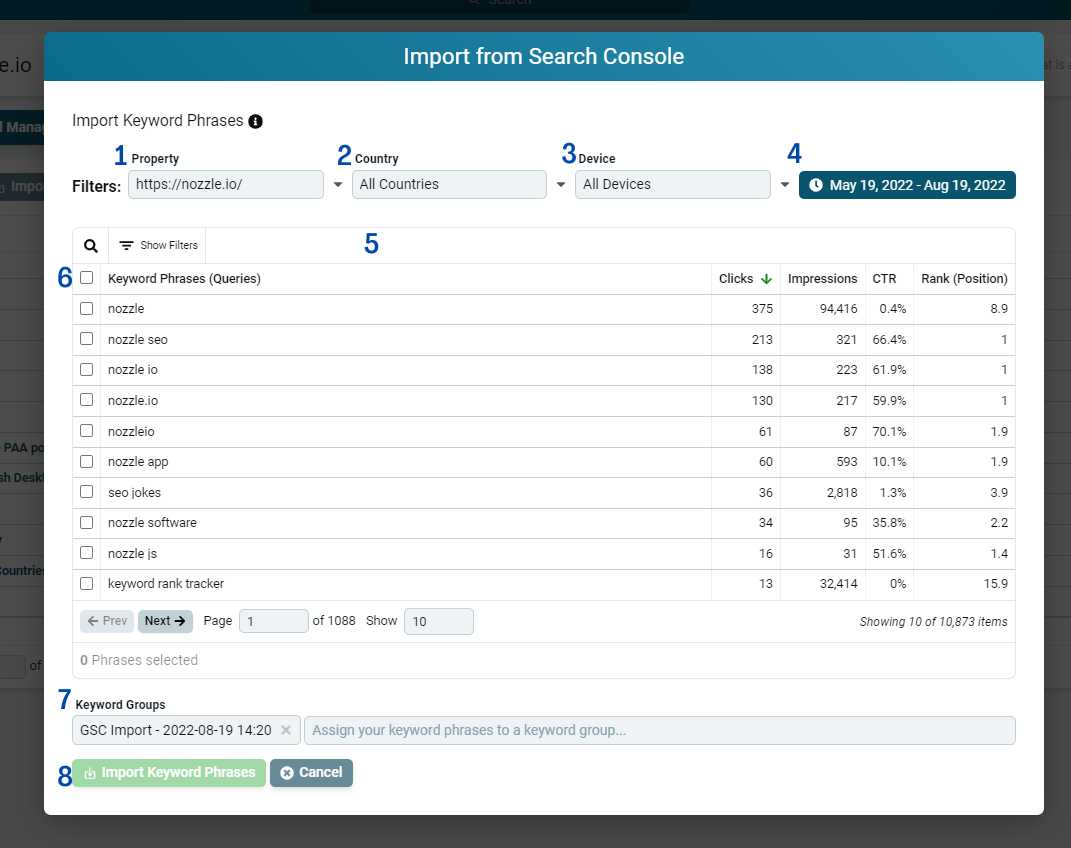 Property. If you have several properties, you can choose one here.
Country. Select the country that gets the most clicks or leave it on "All Countries".
Device. Choose mobile or desktop or all devices for these keywords.
Date range. The default is set to the last 90 days, but you can change it to fit your needs.
The table will display all of the keywords and allow you to search individual Keyword Phrases ("Queries" in GSC), or filter by the number of clicks or impressions, the clickthrough rate, and the Rank (Position" in GSC) so you can find the keywords you want to add to Nozzle.
Select all the keyword phrases by clicking on this top box, or choose individual phrases by clicking the checkbox next to those phrases.
Automatically put these phrases into one or more keyword groups. The default will put them in a Group called "GSC Import and the [date/time]". You can change this name now or wait until later and organize them in the Keyword manager.
Click the Import Keyword Phrases button to include the chosen phrases in your Keyword Source.
This will take you to the Keyword Source page.
Change the keyword source name to describe the types of keywords that are in this source.
You may also edit the keyword phrases and keyword group names if you haven't already done so.
Important Note: There is another Import from Source button above the Keyword Phrases chart. You can use this button to import more keywords from Google Search Console.
After you click the Import Keyword Phrases, you will see a popup that tells you that your phrases were successfully added and asks if you would like to import more.
Clicking No. I'm done, will simply return you to the Keyword Manager page. If you select Yes, the Import from Search Console modal will remain open, and you can de-select your previous selections and begin adding some more keywords, following the same procedures as before.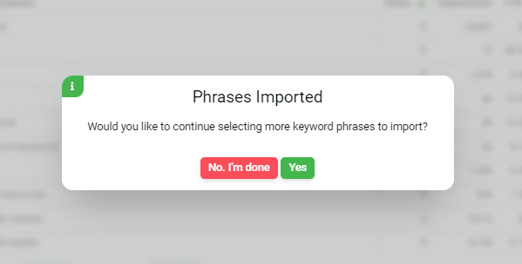 Once you have added all your keywords to this Keyword Source, choose your devices, locales and schedules. (For more details on this keyword groups, choosing your devices, locales, and schedules, check out the Adding Keywords page.)
Click Save Keywords at the bottom of the page to put these keywords into the system and start gathering data on your extensive list of keywords.