You can view your top SERP competitors in the Competitive Share of Voice dashboard.
First, however, you'll need to create custom segments for whether you want to see who has the most top 5, top 10, or top 20 positions for your keywords.
Click
here
if you don't know how to create segments.
For a "Top 10 Rankings" segment, use the condition "Result Rank <= 10". You can add additional conditions to filter by device and more. Name your segment descriptively so you'll remember what it's for.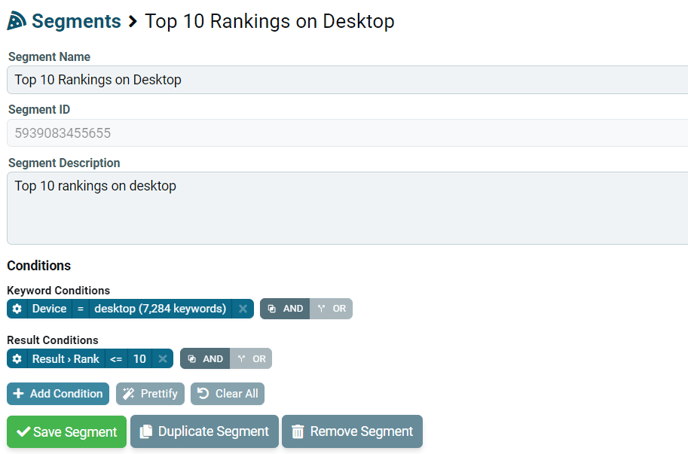 For other top ranking ranges, use similar conditions: "Result Rank => 3", "Result Rank => 15", etc.
You can also make segments for other ranges that you want to keep track of: "Result Rank >= 11" AND "Result Rank <= 50" for rankings from 11 to 50, for example.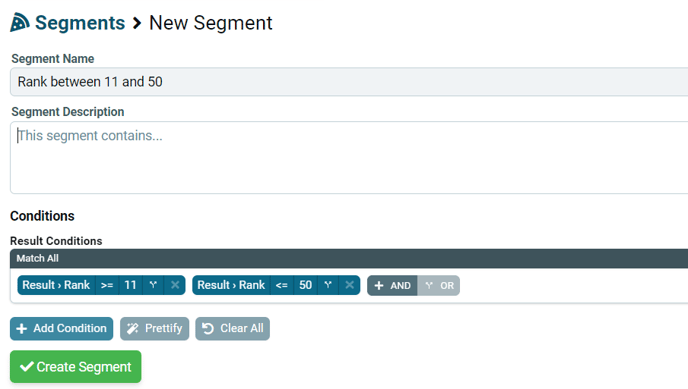 Wait 30-60 minutes for your new segment to show up in dashboards.
Once you've created your custom segment:
Navigate to the Competitive Share of Voice dashboard.
Select your newly created top rankings segment in the Segments dropdown.
Sort by keywords and click the Keywords tab.
Below, you should see a bar chart listing your competitors in order of who has the most keywords in the top 3, top 10, or top 15 (or equivalent) positions across your keywords. Further down, find a table with the same data.
Use the Rollup dropdown near the top of the page to switch between seeing brands, domains, and more. Try filtering by keyword group to learn how your competitors differ between your keyword groups.
You can also use any of the "Rank =" and "Rank between" segments to see how many keywords your competitors rank for in those rank ranges.