Nozzle collects information on every website that ranks in the top 100 for your keywords, so you can easily find your competition.
Go to the
Competitive Share of Voice
dashboard to find your top SERP competitors
.
Change the Rollup to Domain.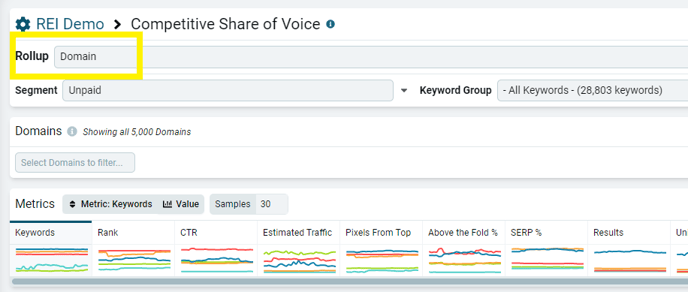 Scroll down to the Domains chart at the bottom.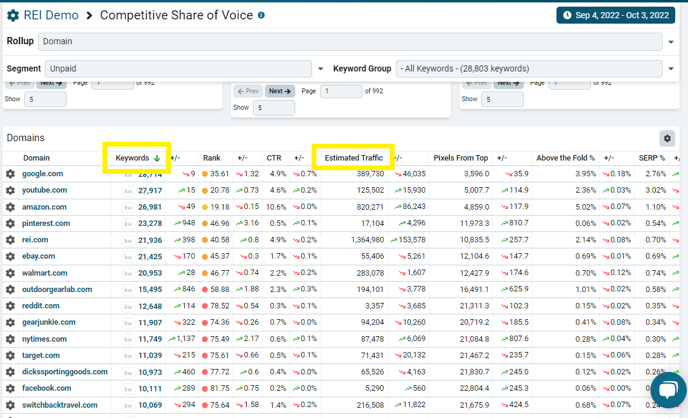 This chart is sorted by the Keywords column by default to show
which domains have ranked the most times in the top 100 for your keywords.
You could, however, sort by the Estimated Traffic column to see which domains are (likely) getting more traffic than you for your keywords.
Of course, any of our metrics can provide a quick snapshot of who is out-performing you - or catching up to you - in different ways. You can see who has the best average rankings, who owns the most space above the fold, and much more.
However, looking at domains that rank in the top 100 might be a bit... expansive.
You may find it more useful to drill down into this data further and find out who is ranking in the top 10 or even the top 5.
This way, you can zero in on the serious competition.
This is how you can do it:
Creating Segments to Find Your Competition
First, you'll need to create custom segments to filter down to who has the most top 5, top 10, or top 20 positions for your keywords.
If this is your first time to create a custom segment, click
here
to get a more in-depth look at the process.
For a "Top 10 Rankings" segment, use the condition "Result > Rank | <= | 10".
At this point, you can also add additional conditions to filter by device and more.
Give your segment a descriptive name so you'll remember what it's for.
It should look something like this: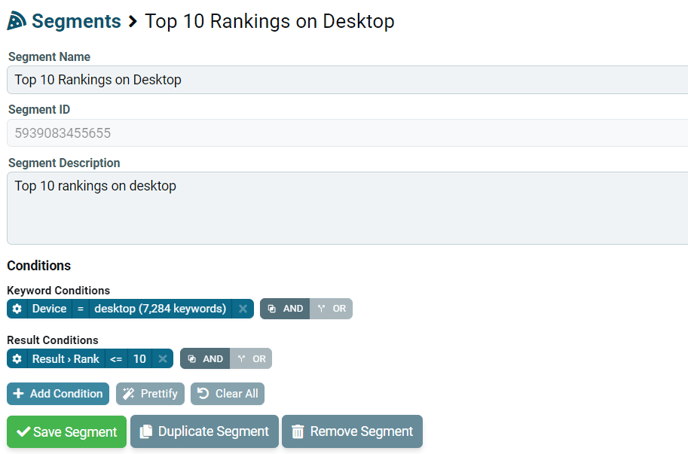 For other top ranking ranges, use similar conditions: "Result > Rank | <= | 3", "Result > Rank | <= | 15", etc.
You can also make segments for other ranges that you want to track: "Result > Rank | >= | 11" AND "Result > Rank | <= | 50" for rankings from 11 to 50, for example.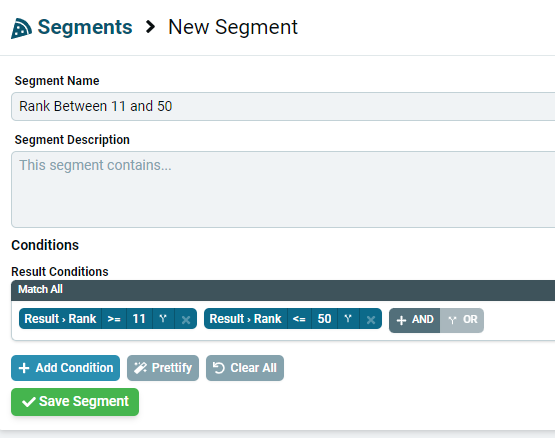 Click the Save Segment button to save your work. It will take up to 30 minutes for your new segment to show up in dashboards.
Once you've created your custom segment:
Navigate to the Competitive Share of Voice dashboard.
Select your newly created top rankings segment in the Segments dropdown.
Sort by keywords on the Domains chart.
Now, you can see your competitors in order of who has the most keywords in the top 3, top 10, or top 15 (or equivalent) positions across your keywords.
You can see how different this example is from the one up above.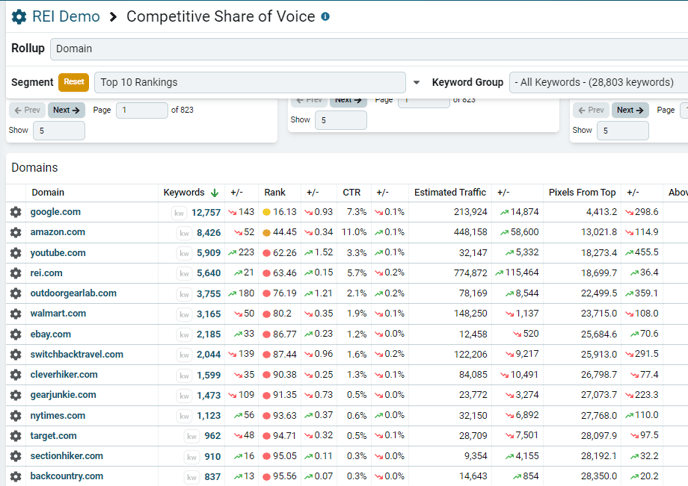 You can use the different Rollup types to switch between seeing brands, domains, URLs and more. Try filtering by keyword group to learn how your competitors differ between your keyword groups.
You can also use any of the "Rank =" and "Rank between" segments to see how many keywords your competitors rank for in those rank ranges.