A step by step guide to importing your keywords from other sources.
You can import keywords into your Nozzle workspace from:
Accuranker
Keyword.com
RankWatch
SERPWoo
SEOmonitor

There are three places within the Nozzle app you can perform an import.
From within the Project Dashboard
From within an Existing Project
From within an Existing Keyword Source
First: Project Dashboard
Use this method when you don't already have a Project set up in Nozzle for these keywords, and you want to load your projects/campaigns straight from other rank tracker tools all at the same time.
Go to the Projects dashboard by clicking "Projects" at the top of the dashboard.
Once in the Projects dashboard, click the "Import Project" button.

Choose an import source.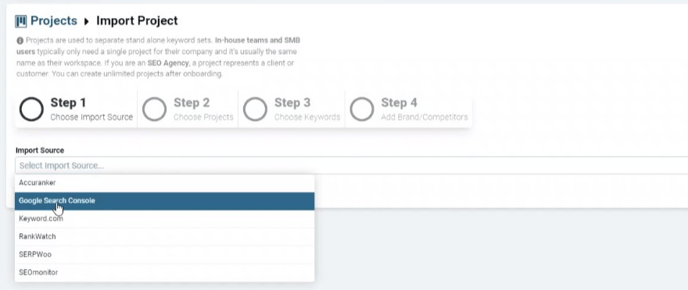 Enter the API key and password, if necessary, that you receive from the source sites.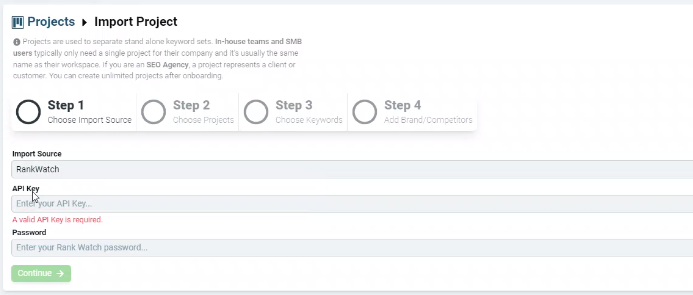 This will pull up the projects/campaigns that you have on those other rank trackers.

Choose which projects you would like to add and hit Continue.
This will pull up a list of keywords within each of your projects from the other rank tracker.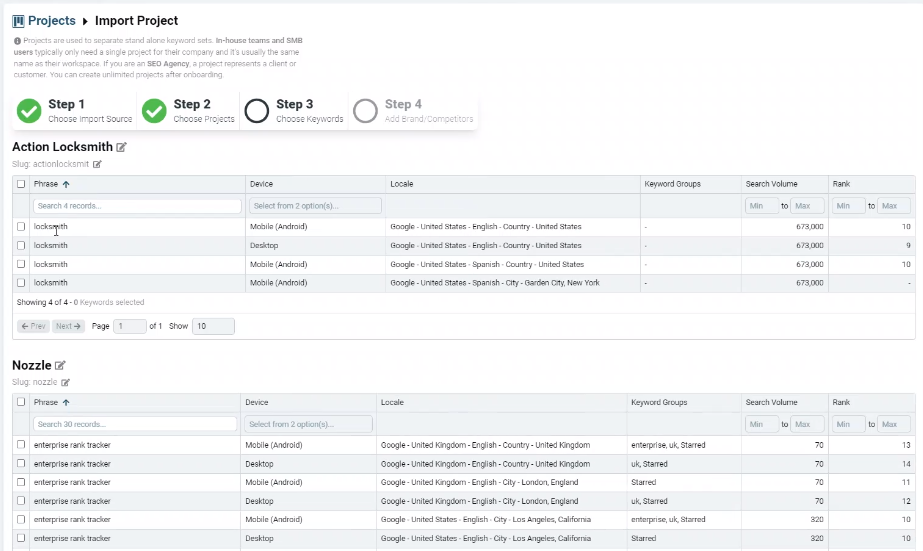 You can then select the keyword phrases you want and filter by device, location, search volume and rank.
Click "Submit and Continue".
Then, select the brands/competitors you would like to include in your Nozzle project and click "Add Brands".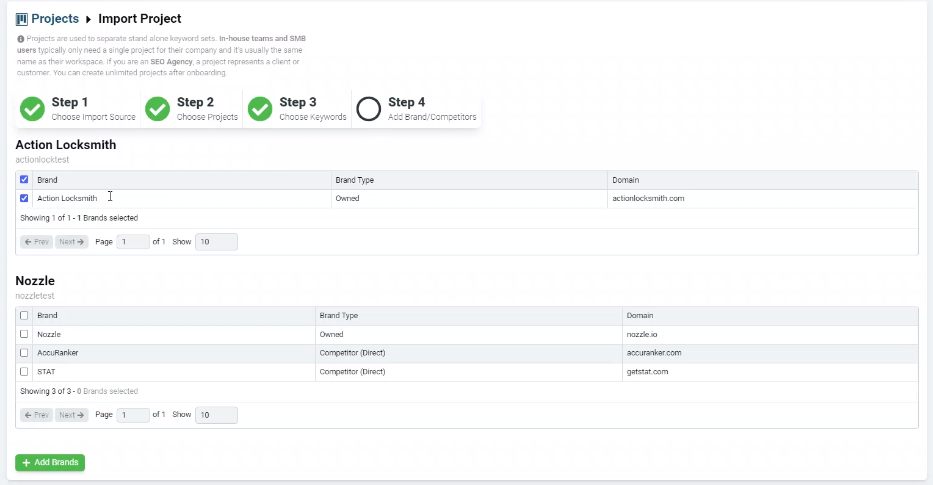 From there you can edit any keyword source and continue editing over time (i.e. add more phrases, changes to scheduling).
Second: From Within an Existing Project
If you already have the project created in Nozzle, click the gear icon or the Manage Keywords button to get into the Keyword Manager.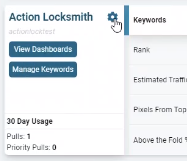 From there, click on "Import from Source" and choose the source and enter API key.

Select the desired phrases and click the import button.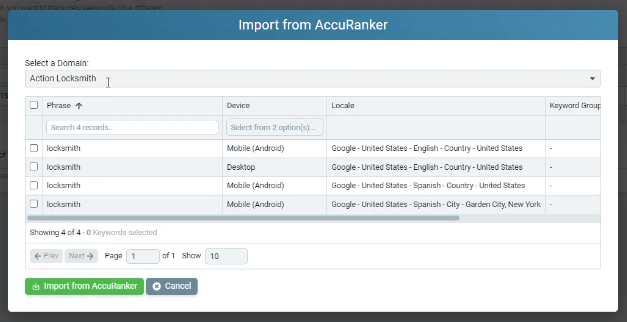 You can then make any changes you'd like - just as you would if you were adding keywords manually. Be sure to click Save.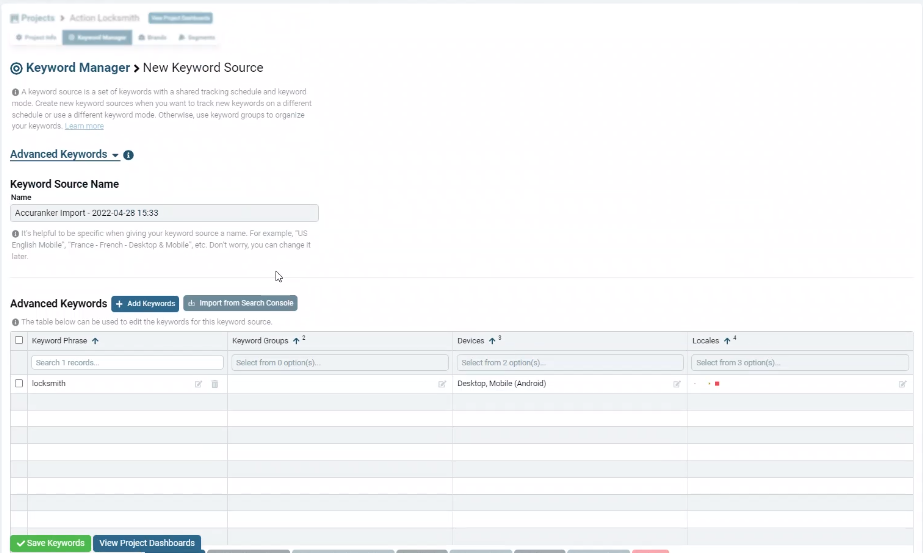 Third: From Within an Existing Keyword Source
If you already have a keyword source in your project that is tracking keywords, and you want to load in some extra phrases from your old rank tracker, click on an existing keyword source.

Click the "Import from Source" button and choose the source you would like to import.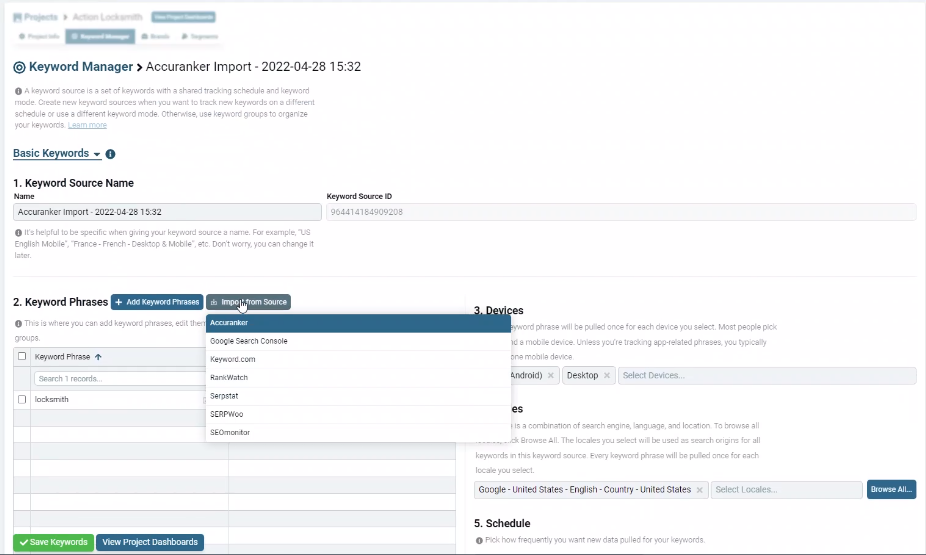 Enter your API Key.

Select the phrases you'd like to add to the existing keyword source and click the import button.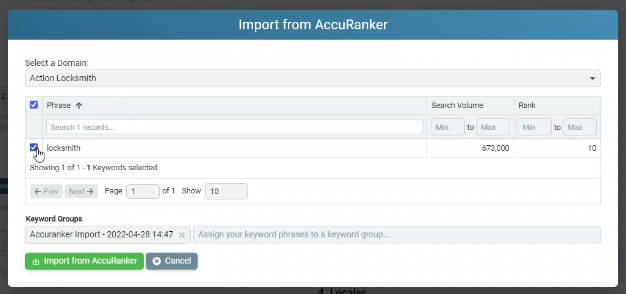 This then loads the new phrase into the existing keywords source.
Save the keyword source so it will include the new keywords going forward.