You can add videos to your Brand to track your video marketing efforts.
Your videos could appear in a number of different ways in the SERPs, which means you may need a number of different ways to track what's happening.
Here are three ways you can use Nozzle as a YouTube rank tracker:
Add YouTube Videos to Your Brand in Bulk
You can add up to 500 videos to your Brand at once with just a few clicks. This is a quick way to get a lot of your videos into the system all at once.
On your Brand page (a new Brand or an existing one), scroll to the Add Common Properties section.
Click the +Import YouTube Videos button.
In the popup, you will be asked to provide the YouTube User Name or Channel ID.

Note: This could be your competitors' ID or user name, if you are adding them to a competitor's Brand to keep track of their video marketing.
After you enter your name, the system will pull up to 500 videos from your channel. Select the ones you want to add to the Brand (or check the top box to select them all).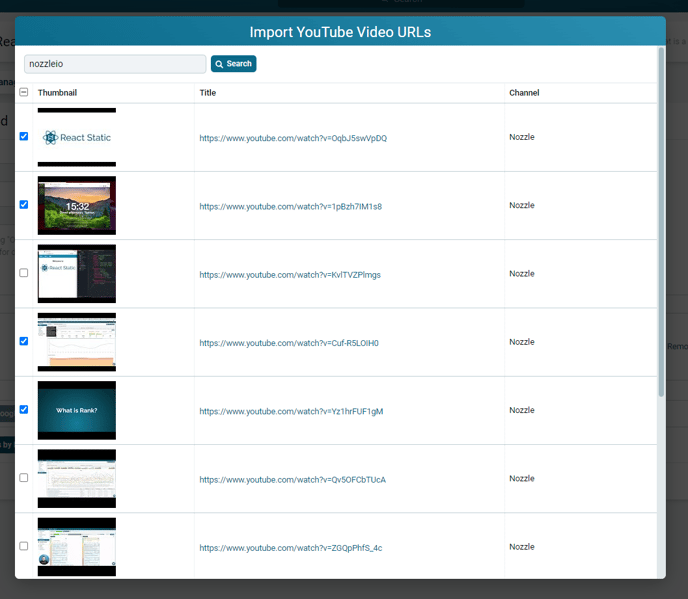 Click +Add Videos.
This will add each of the selected videos to the Brand page, but they're not in the system yet.
Click Save Brand at the bottom of the page to get all of these videos into the system.
Track Individual Videos
If you only have one or two specific videos you want to track – which is often the case for a temporary promotion or when the video is a major part of a content marketing push – you can manually add specific video URLs to your Brand.
Find the video(s) you want to track.
Click +Add Property at the bottom of the Brand page and select the URL property

Edit the Name to reflect its purpose
Paste the video's URL into the box

Click Save Brand to begin tracking the video as part of your Brand.
Track Your YouTube Channel
While Google doesn't often deliver an entire channel as a result for general queries, if the search is directly related to your brand, you better believe your channel is a likely candidate for a SERP appearance.
So, is it showing up? And if so, where?
Is an unwanted result pushing this brand asset of yours below the fold?
You can easily track your YouTube channel in Nozzle.
Select an existing Brand or create a new one.
In the Add Common Properties section, click +YouTube Channel

Enter the YouTube channel name or user ID.

Click Save Brand at the bottom of the screen.
Now you're ready to start tracking this critical element of modern content marketing campaigns.